Main content starts here, tab to start navigating
St Patrick's Festival 2023
Best Irish Pub in Chicago – Time Out
"Voted Top Ten Irish Pub's in the World -"
Voted "Best Pint of Guinness" in America!
Featured on Check, Please! And Chicago's Best.

Celebrating The Best In Irish Heritage 1999-2023
Chief O'Neill's ("The Pub You've Been Practicing For") a family-owned traditional Irish Pub and Restaurant is proud to announce their 24th Anniversary Celebration. Chief O'Neill has a well-earned reputation as one of the biggest and best St. Patrick's Parties in Chicago, with fabulous food, libations, and first-class entertainment. Rated "4 forks" by the Chicago Tribune.
"Chief O'Neill's is the perfect Irish pub, offering terrific food and classic Irish music. Shepherd's pie, delicious Meatloaf, and Fish and Chips are served in an atmosphere that transports you to Ireland. Stop in for some great music and a delicious award-winning pint of Guinness." Check Please!
Once again, we are erecting the heated tent, in the comfortable and spacious 2000 square foot garden.
Chief O'Neill's will feature a celebration of fine Irish Spirits, Stouts, Beer, Ales, and Lagers as well as Famous Classic Ala Carte Irish Favorite Entrees Offerings on the first floor.
We are proud to present the best Irish traditional musical talent in North America, as well as Irish musicians direct from Ireland.
No Cover Charge
GUINNESS & GIGGLES
COMEDY OPEN MIC 7:00 PM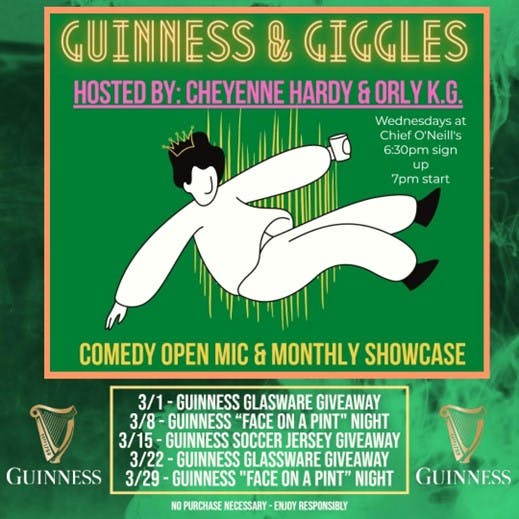 Friday, March 17th, St. Patrick's Day

8 AM – 2 AM
OVER 21 AFTER 8:30 PM
General Admission
NO RESERVATIONS
$10 cover charge Starts at 4:00
Watch the Games on our Big Screen TVs This Year In the Heated Tent

St. Patrick's Day Reservations ONLY Accepted for "Mrs. O'Neill's Parlor"
Mrs. O'Neill's 2nd Floor Dining Room
Limited Space / Hosting Guests 21 and Older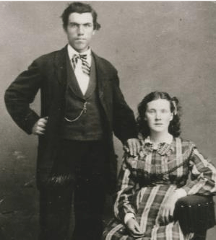 Mrs. O'Neill's Parlor is a unique, bright space featuring 9' foot window openings with vistas of downtown Chicago's skyline and the Avondale neighborhood. Mrs. O'Neill's Parlor has been guest's favorite for the past 24 years for its expressions of Irish Heritage, Irish Art and design.
Mrs. O'Neill's Parlor Seating Times:
3:00pm / 5:00 / 5:15pm / 7:15pm / 7:30 / 9:15
Our Grand Emerald Isle Buffet featuring Irish Favorites Selections
Including: Fish & Chips, Corned Beef & Cabbage, Shepherd's Pie, Irish Chicken Curry, Salads & Dessert.
$40 per person
Reservations only available here online on this website page.
Reservations are for a 2-hour Seating and only available here on this website page. $10 reservation deposit will be applied to your Mrs. O'Neill's Parlor check on the day of your reservation. We will contact you and provide a confirmation number when your reservation is secured with a credit card.
Reservation Cancellation Policy: Reservation deposit will be refunded if we receive emailed notice from you that you are canceling by 5:00 pm on Tuesday 3/14/23.
Friday, March 17th, St. Patrick's Day

First Floor Ala Carte Festival Entrée Items
Menu Served at 10:00 AM
- Corned Beef and Cabbage Dinner
- Shepherd's Pie
- Bangers and Mash
- Irish Chicken Curry / Veggies & Rice
- Reuben Corned Beef Sandwiches
- Fish & Chips
- Caesar Kale Chicken Salad

St Patrick's Day Entertainment
$10.00 Cover Charge Start 4:00 PM
10:30am
The Clumsy Celts
12pm – 1:30pm
Tim O'Shea
2:00pm – 3:30pm
The Wanderers
3:30 pm
Saol Academy of Irish Dance
4:00pm – 5:30pm
Baal Tinne
5:30pm – 6:00pm
O'Hara School of Irish Dance
6:00pm – 7:30pm
The Academy of Irish Music
8:00pm
Trinity Academy of Irish dance
8:30pm
Emerald Society Pipe Band
9:00pm – 12 am
CHICAGO REEL
Saturday, March 18th, 2023

Open at 11:00 AM
6:30 PM O'HARA School of Irish Dance.
7:30 PM – 9:00 PM Live Irish Music – Chicago Reel
No Cover Charge