Thanksgiving Day Dinner Buffet
November 24 2022 |
3471 N Elston Ave, Chicago 60618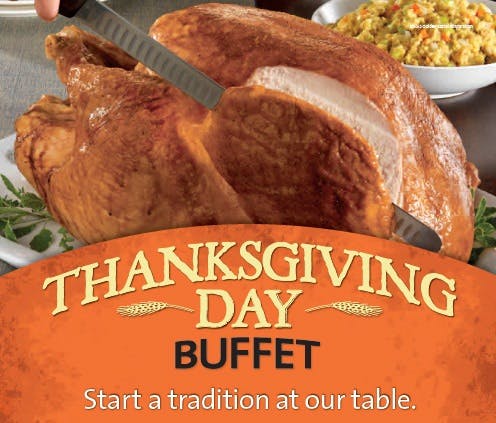 Join Chief O'Neill's for our Fabulous Thanksgiving Dinner Buffet
Seating Times:
First Floor: Dining Room Seating Times: 12:00 / 12:15 /12:30 / 2:15 / 2:30 / 2:45 / 5:30
Second Floor Dining Room Seating Times: 1:30 / 3:45
Adults $85 / All Children under 12 $45
Reservations only available here online on this website page.
$20 reservation deposit will be applied to your check on Thanksgiving Day. We will contact you and provide a confirmation number when your reservation is secured with a credit card. 
2 Hour Seating / 72 Hour Reservation Cancellation Policy
Reservation deposit will be refunded if we receive emailed notice of the cancellation by 5 PM Tuesday 11/21/2022. Seating reservations are for a two hour period.
Menu Selections
Soups
Chief O'Neill's Famous Cheese and Guinness / Maine Lobster Bisque
Salads
Baby Kale Salad / Arugula Apple Salad / Chief's Caesar / Pasta Salad
Seafood Appetizers
Ceviche / Cured Salmon –Chive Cream Cheese / Peel & Eat Shrimp / Fried Shrimp / Fried Oysters
Fruit Display
Fresh Pineapple, Watermelon, Honey Dew, Cantaloupe, Strawberries, Kiwis, Blueberries, Raspberries, Grapes
Crudité Platters
Assortment of Fresh Raw Vegetables / Buttermilk Ranch Dressing
Assorted Imported Cheese Display
Carvery & Entrée Selections
Smoked Maple Glazed Ham: / Pineapple Rum Raisin Sauce
Roast Turkey Breast: Turkey Au Jus Gravy
Atlantic Salmon Wellington
Stuffed Roast Pork Tenderloin: Orange Cranberry Sauce
Lobster Ravioli / Vodka Sauce
Sides
Mashed Potatoes, Scalloped Potatoes Au Gratin, Roasted Garlic Rosemary Baby Red Potato, Candied Yams with Marshmallows / Bourbon Glazed Carrots / House Made Turkey Stuffing – Sausage and Herb / Chorizo Cornbread / Southern Style Green Bean Casserole / Sweet Corn, Blackened Brussel Sprouts / Baked Mac & Cheese / Crabmeat Mac & Cheese / Pita Chip Crisps & Hummus / House Made Tortilla Chips & Salsa / Deviled Eggs / House Baked Corn Muffins / Irish Soda Bread / Oven Fresh Dinner Rolls / Mini Bagels
Sauces
Horseradish Cream / Au Jus/ Cranberry Sauce / Cocktail Sauce / Honey Whipped Butter
Desserts
PIES…Apple / Pumpkin / Pecan Pie / Fresh Whipped Cream. Build your own ice cream sundae. Milk and White Chocolate Fountains Accompanied by delectable dipping items., Crème Brule / Jameson's Bread Pudding / Apple Crumble / Tiramisu / Chocolate Mouse / Assortment of Fresh Bread Rolls / Cakes and Cookies
Enjoy our Mimosas & Build Your Bloody Mary Bar / Beverages are not included in Brunch Price.
Children must be supervised while visiting the buffet and remain seated at the table during the reservation to ensure all guests have a safe and enjoyable experience.
Items subject to change based on supply chain availability